What is this site about?

Around 1998 I discovered that it was possible to create an artificial intelligence (AI) that could find patterns within a time-series. A time-series looks like the following graph: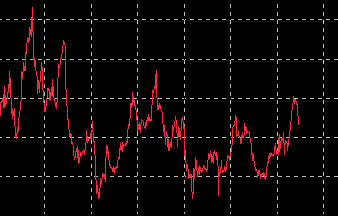 If this AI could learn about the patterns in the chaotic signal then it might be able to generalize its future course. That is, it might know about how the pattern continues into the future. So right away I noticed an obvious application: to try and apply this to the stock market. Check here to see the latest results. Or to see an example of the output, check here.
As it turns out this AI can be used to predict other signals, not just within the stock market. A lot of these applications could relate to finding patterns in a variety of noisy chaotic signals like the one above. For example: if a company is producing aluminum parts, say aluminum cans, or aluminum car parts, and they purchase large amounts of aluminum - they may have an interest in purchasing their bulk aluminum at the lowest price. If the price of aluminum fluctuates in a chaotic fashion then the AI could predict when its price would fall or when it would rise.
This is just one example of the numerous possibilities available for this technology. A potential user can probably imagine all sorts of advantages that could be gained by such a prediction. We could not possibly conceive of what all of those specific applications might be, but we would be happy to hear about it..... email us.
So ... five years and 20,000+ lines of code later ...the AI is at a point where it can be used in the above manner.
We have setup this site to attract potential users in an effort to apply and sell the AI as a service.